Small Traditions for Small Town Living
Centuries Worth of Practice Held Dear to Many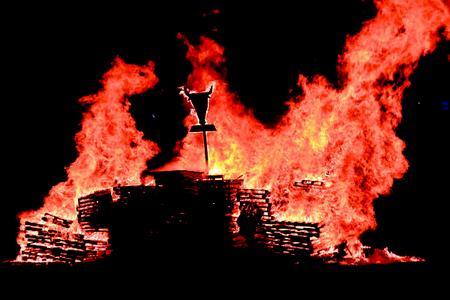 Hang on for a minute...we're trying to find some more stories you might like.
The woodpile is stacked, firefighters and policemen are in position, hot dogs
are fresh off the grill, cheerleaders, Eagle Dolls and football players stand ready to
begin one of the most anticipated nights of the year. The Battle of Big Sandy bonfire.
It's a tradition, and it's a big one.
The Battle of Big Sandy, a football game consisting of rivals Bridgeport and
Decatur, is one of the many traditions that Decatur High School continually upholds.
Between the pep rallies and football games, students always look for a time to stand
together and cheer on their hometown.
Much of the anticipation of transitioning from middle school to high school
centers on officially participating in long-standing traditions, just like the one
against Bridgeport.
"Traditions are something that you see as a freshman and you look forward to
being involved in as an upperclassmen," junior Logan Cullop said.
The key to the longevity of any tradition lies in the participation of those who
support it. This is evident in student led spirit organizations like the Blue Crew. Of all
the traditions, the most noticeable one stands in the bleachers between the 30-40
yard lines, and is better known as the student section at Eagle Stadium.
"As a student at Decatur High School, I am involved in the
Blue Crew and in the pep rallies," Cullop said. "You'll always see me cheering
in the student section on Friday nights."
Traditions can be a funny thing. They can be quirky and sentimental, long
standing and revered by many. What makes sense on one side of Wise County
probably makes no sense on the other side. From bonfires to cowbells, face painting
to fight songs, from Reunion to the Midnight Madness Parade, tradition is
everywhere. To some, traditions are what bind folks together that otherwise have
nothing in common.