Service Animal Provides Light in Dark Times 
Golden Retriever boosts morale around campus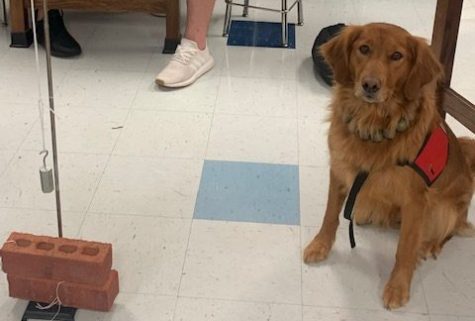 Photos By: Jada Boner
With a furry addition to her classroom, Danielle Scroggins teaches her Physics and Environmental Science classes with her students in mind. Daisy, a four year old Golden Retriever, makes her way around the room checking in on the wellbeing of students and her owner. Scroggins plans on finishing up Daisy's American Kennel Club internship at Decatur High School this semester.
"He greets students in the morning, helps relieve tears and fears, motivates students, rewards students for their hard work or good behavior, and even listens to students read to him," Scroggins said. "Studies show that therapy dogs contribute to the overall school climate because of their warmth and acceptance."
Dogs provide humans with insurmountable feelings that most struggle to find in people. They offer people reassurance that their dogs remain loyal to their owners and provide this sense of security. Bringing a dog into the classroom, provides possible change in a student's life and they carry that assurance that Daisy will greet them when class begins. With testing the waters on how well Daisy does with students, she comes up about three times a week.
"I've always wanted a Golden Retriever. I read the book The Watchers by Dean Koontz in high school, and fell in love with the dog in that book that happened to be a golden," Scroggins said.
It takes a moment in someone's life to realize that one of their purposes means trying to make someone else's life better. Scroggins found a book that she happened to read and ever since then, she found a time in her life to pursue her dream. Daisy not only means so much to her owner, but the students who truly rely on her to be there in class to help them through a rough day. Though Scroggins went through a big process, she remained consistent which she claims must be the key figure in training a dog.
"This last year has been exhausting mentally, physically, emotionally, and spiritually," Scroggins said. "While training and working with a therapy dog has been a lifelong goal, this year it felt urgently necessary. I think we are all weary from the pressure of this last year, and I'm hoping Daisy will bring some light to end the year on a positive note."
Follow Daisy on:
Instagram: @Daniellas_daisy
Twitter: @DaniellasDaisy