One Final Show
Senior reflects on time spent at WCYF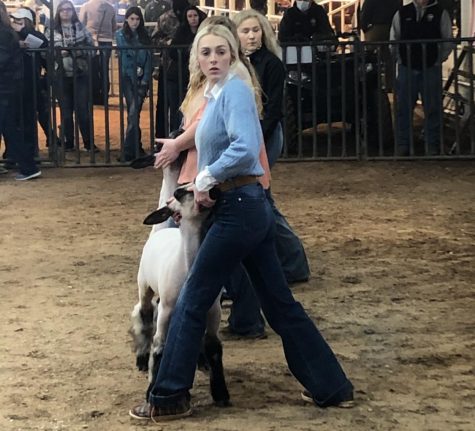 When walking on the fairgrounds during the week of the Wise County Youth Fair (WCYF), chaos is an expected sight. Goats break loose from cages, pigs escape their handlers and there's no escape from the thick dust that coats the air. For those who aren't used to it, the WCYF sounds like too much. Too many sounds, too many smells, too many people, too much pressure. For senior Katie Daniells, it sounds, and smells, like tradition.
Daniells started showing in the sixth grade. She first showed horses during middle school before adding pigs, lambs, cakes and horticulture projects to the mix. Thanks to her projects and time at the WCYF, Daniells created new memories that will stay with her, even when the fair ends.
"My best memory is probably all the fun I've had showing with my friends and family," Daniells said.
To any participant, the week feels like a scramble. The continual shows, flow of people and nerves before stepping into the arena makes the week fly by. With Daniells' stacked schedule of showing, baking and planting, it seems there wouldn't be a minute to spare. Despite this, one of her favorite aspects of WCYF is when she gets to cheer on her friends.
"I would say when my friends do good and how proud I always am of them[are my favorite times]," Daniells said.
Through Daniells' six years of experience with showing and fair activities, she's learned a lot about agriculture and what goes into it. Thanks to her projects, she even found a path for after high school.
"After high school I am going to Tarleton to study ag business," Daniells said.
Showing for the entirety of high school and middle school, Daniells' farewell to the WCYF feels bittersweet. As she reflects on all the good memories, it's hard to not think about the inevitable end.
"It's been hard," Daniells said, "but I know that all this time showing has prepared me for the future."