Keeping Everyone in the Know
Alumna returns to fill important role in district communications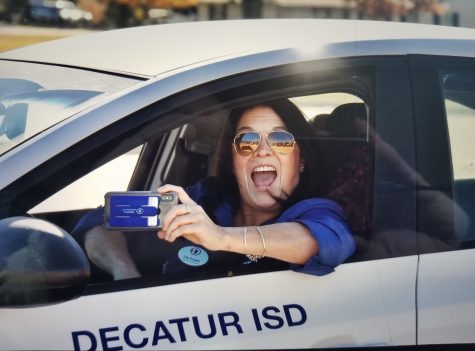 Certain roles in the district that work behind the scenes, including the Director of Communications, often go unnoticed and end up forgotten. In Decatur, many people filled the shoes of the Director of Communications over the years, but with the presence of social media and the current landscape of the world we live in now is as important a time as ever to understand the need for a role such as this. Sally Rodgers fills this role here. Rodgers started her third year as the Director of Communications this year.
"As the communications director/public relations manager for the district, my job is to ensure that we are consistently and thoroughly communicating district information to our students, parents, staff and community," Rodgers said. "It is my job to share the good things the district is doing, and to be a voice for the district when information must be communicated outside of our school walls."
Though sending information throughout the entire district brings many difficulties, 2020 gave the district many great moments.
"As a proud alumna of DHS, my favorite part of working for DISD is being able to tell all the great stories coming out of this awesome district," Rodgers said. "We have so many exciting things happening, from our new STEM academy to a state championship to student achievement in the classroom and out, there is always a great story that needs to be told. I'm very blessed to be in a position to share these stories about a school district I deeply love."
The job description took a difficult, yet interesting turn in the past year. With the COVID pandemic shutting down many businesses and many schools for the vast majority of 2020, everybody pulled together to do a little bit more to make sure the district stayed safe, well informed and ready for whatever crazy event came up next.
"The biggest challenge for me has been communicating through COVID-19," Rodgers said. "Information changes so quickly, and it's my job to ensure that the information is not only communicated as quickly as possible, but that it also is accurate."
DISD, as well as most school districts, hope to rebound after the pandemic. The administration hopes to keep moving forward and making improvements in the future even though COVID-19 makes it a little more difficult.
"I love setting goals, and it's something our new Superintendent, Dr. Coburn, really encourages each of us to do," Rodgers said. "My goal is to align my communication with the district's goals. Although people may be tired of hearing about it, COVID-19 news and updates will be coming for a long time from my office. I will constantly work to improve these communications so that every stakeholder feels informed."