New Club at DHS
AVID Offers Another Opportunity for Students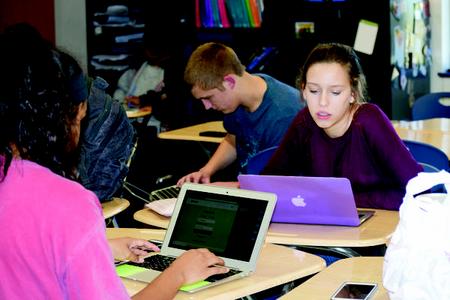 Hang on for a minute...we're trying to find some more stories you might like.
Lauren Smith, the AVID advisor, is leading more and more students to the path of
success. Last year, Smith introduced Advancement Via Individual Determination, or
AVID, to Decatur ISD with the help of Principal Jeff Russell. Throughout the past year, this program has proven to be helpful to many students. Because of this, there are many non-AVID students who want to be more successful and who wish to join AVID, but cannot due to the program's strict requirements.
For this reason, Smith made the decision to start a new organization called the
"AVID Club" this year. Since many students wish to reap the benefits of this program,
they will be offered an opportunity to do so by joining this club. The purpose of adding AVID as a club is to provide resources and guide more students to success. This addition will provide an extra boost of encouragement to its members.
"Last year, there were some juniors and seniors who proposed to Mr. Russell that
we needed a class or something to promote college and career readiness across the
campus: not just to AVID students, and so we decided to create AVID club," Smith said.
There will be no initial requirements prior to joining the club and all grade levels
are welcome. However, students are expected to meet certain requirements to go on field trips and to have some of the privileges. The club's members will be required to have passing grades in all classes, maintain a 3.0 GPA, and commit to at least 10 hours of community service prior to the field trip day. These students will also be required to attend 4 out of the 7 meetings held in Smith's classroom in room A229.
"We want everybody to feel like they can join," Smith said.
For the first year of this club, the AVID advisor plans to give students more direction to reach their goals in the future. Smith wants to use this club to give students as much information as possible about getting out of high school and into college, and helping them have successful futures. The members of the club will receive help with scholarship and college applications.
"It's like kind of giving them the tools that they need before they begin their
senior year so they're not panicked by their senior year," said Smith.
Along with helping the students be successful, the club will serve as an outlet for
students to plug in. If they don't have another place at the school to connect with other people, this can also be that place.
"I want kids to feel the sense of belonging. That's why we created the club, so
they could be a part of something," Smith said.