Lack of Lockers
Students weigh in on absent storage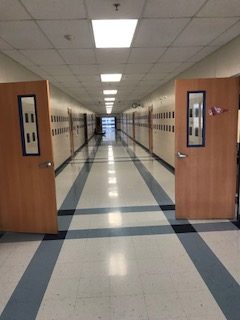 From pencils and notebooks to teachers and homework, certain objects represent integral parts of attending school. Another example of a school icon lies in the generic locker, one aspect of school obviously absent from DHS.
Although the list of advantages versus disadvantages seems never ending, students continue to develop their own opinions on the locker situation.
"I think that the lack of school lockers reduces the amount of traffic in the hallways and allows people to get to their classes faster," freshman Reagan Staab said. "However, without school lockers we are not able to put our things in places and it results in carrying more things and heavier backpacks."
In addition to student thoughts, other people hold their own opinions on the lack of lockers. Teachers especially understand a lot of advantages that accompany this school decision.
"​I know that more and more new school buildings are foregoing lockers to save space and use space more efficiently. Most material is available online now, and long gone are the days of students having to lug around 4 giant textbooks in their backpacks," English III teacher Melissa McCoy said. "In today's school climate, with safety being a primary concern, I think the argument is also that lockers might be used to hold items that are dangerous or inappropriate."
Although the high school's halls remain bare, the middle school possesses lockers throughout the hallways. When questioned about the transition from a dependence on lockers to a lack thereof, the responses varied.
"I personally did not like the transition because it made me have back problems with all the supplies we must have for all our classes," junior Sarah Dalton said.
For some, lockers provided an easy and convenient way to store and access supplies. Despite this, others barely noticed the metal lockers and rarely used them.
"The transition from lockers to no lockers personally was not hard because I didn't use them that much," Staab said. "But, it takes away the opportunity to put supplies or other things in a locker for the day and not be able to carry it around."
Decatur students use middle school lockers before transitioning to empty high school hallways; however, many other high schools still allow students lockers. In McCoy's previous teaching experiences at Azle and Alvord, she observes the locker situation with a different perspective.
"​Azle High School did have lockers. When I first taught, students still carried textbooks, so lockers were beneficial in that students did not have to carry around heavy backpacks, but students typically did not utilize the lockers because the passing periods were not long enough to go to one's locker and then to class," McCoy said. " I taught at Alvord High School last year, and students there did use lockers. There were only three hallways in the school, however, and students had ample time to use the lockers and to get to class."
The absence of lockers from the hallways causes further consequences and students take notice. To survive the almost eight hour school day, the amount of carried materials often seems too much to bear.
"I don't agree with no lockers because it puts a lot of pressure on our backs with all the supplies we have to carry around all day," Dalton said.
Many students express specific frustration towards the missing lockers due to a variety of reasons. Although a lack of lockers creates more room in the hallways, the situation still holds flaws.
"Times I wished I had a school locker was days when I had an extremely heavy backpack and a lot of stuff in my hands," Staab said. "Many extracurricular activities require students to bring stuff to school and having a locker would reduce some of the things people have to carry.
The general opinion regarding the lack of lockers comes off as negative; however, some instances prove that people appreciate the ability to constantly carry their own stuff wherever they go.
"I do like the absence of lockers when I can have all my supplies with me everywhere I go," Dalton said.
In addition to providing students with the opportunity to consistently keep track of their supplies, a lack of lockers also provides more space in the hallways.
"One time I was glad DHS doesn't have lockers was when I was in a rush to get to my next class," Staab said. "Without lockers, I don't have to worry about having to get something for my next class or being late to a class because of people getting to their lockers."