Another Dance Down 
Eagle Dolls advance in competition with confidence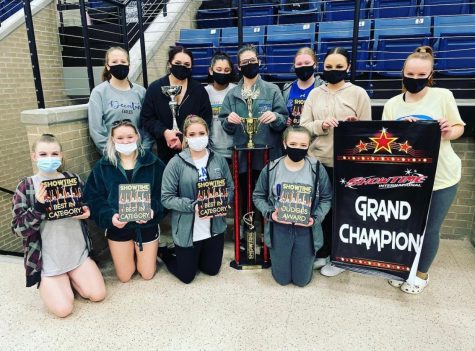 Eagle Dolls competed in the ShowTime International dance competition on Mar. 27 and received Best in Category for the following: Pom Routine, Novelty Routine and Contemporary Routine. While preparing them for competition, it remained a group effort in winning and they earned high scores to prove it.
"It all starts with deciding on the themes for each routine and the search for choreographers," coach and U.S. History teacher Natalie Chance said. "Once I have that figured out, it is all about ordering costumes, searching for competitions that we can attend and signing the team up."
Coaching the Eagle Dolls comes with a lot of responsibility. Unlike most years, the costumes they wore during the competition required Chance to sew parts of their costumes. Ordering everything, with the exception of some of the parts of their costumes, it requires someone who diligently works and considers the time crunches they might be under.
"For many of my freshmen it was their first competition and they handled it like pros," Chance said.
With COVID causing problems within schools, DHS chose to take the cautious route and cancel the pep rallies that the Eagle Dolls traditionally performed in weekly. With new freshmen entering the Eagle Doll environment, they were limited to only performing at the football games.
"Dance competitions are so fun [and] after the first dance the stress kind of goes away and you can relax and bond with the other girls," Eagle Doll Lieutenant Annika Lindt said.
With the stress they feel to perform well, Lindt comes prepared with extra items that someone may have forgotten and also helps Chance with their themes. The captain, Rebecca Place, makes sure that the girls safely go home and help with items being returned and keeping up with all the girls' nerves during performances. With their first competition over with, they plan on competing on Apr. 17 at SeaWorld.
"Before football season ends we are already preparing for competition and it is incredible to watch them transform into confident, strong performers," Chance said. "Watching them perform is so much fun, especially after all of the after school practices and hard work."