Singing Their Way to the Top
Choir students make state through difficulties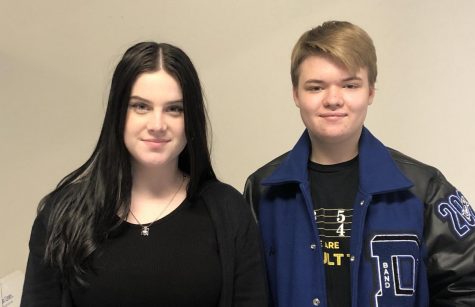 On the upside of a pandemic and the struggles schools faced with figuring out a safe way to open without the virus spreading further, they implemented precautions for UIL. That meant that schools needed to make sure they competed in UIL safely for both students and judges. This year, despite all the difficulties they faced, three choir students advanced to state. Students who compete in choir UIL start in August with each round this year taking about a month. For this year's choir students worked through difficulties such as everything becoming virtual. This year, UIL removed sight reading which people deemed difficult, making this year easier than most.
"The fact that this year there was no sight reading, it made it easier and less stressful, although that feeling was the same for the rest of the auditioners," sophomore Turner Johnson said.
Out of all students who enter UIL choir, which comes out to be well over 1,500 people, only about 350 people make it to state. Last year's contestant, senior Madelyn Causey, made it to state. Because COVID caused UIL to change their rules to limit the spread of the virus, students were required to record themselves on their phones and send it in.
"Due to the auditions being virtual, the only difficulty I faced was trying to get the best quality audio out of my iPhone," Causey said.
Starting with the regional competition, they then head into the pre-area, and then to state. Due to the pandemic UIL decided against their state concert. For the whole process, they needed to learn their five songs and since it remained all virtual, they recorded themselves on their smartphones and sent it in.
"Learning the songs was hard because I had to work mainly on my own," junior Madeline Cox said. "But in the end, I learned that hard work truly pays off and is more important than raw talent."