Moving as One
Lady Eagles begin soccer season with success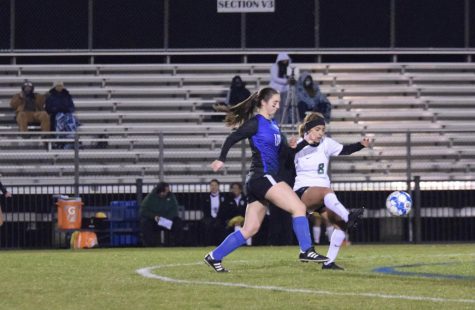 The girls soccer season is underway as we enter the new year. The girls varsity played Lake Worth last week, tying the game 1-1. The game was the second against the Bullfrogs in the young season, also battling in the Springtown tournament to begin the season.
"A tie game is hard, especially when you know your team is better," junior Katherine Holmes said. "You just have to understand that that's just soccer, and it can go either way."
The Lady Eagles bring back many returners from last year's team, including Holmes.
"I've played soccer my entire life and enjoy playing because it is a challenge I can work toward," Holmes said. "I also look forward to trying to improve every time I play and better myself that way as well."
Many of the Lady Eagles are multi-sport athletes, which helps them stay in shape before and after the season, always preparing them for the intense physical play soccer brings.
"I swim as well, and to be honest, it isn't that hard to transition because swim gets me in good shape and I work on my soccer skills in my spare time," Holmes said. "The mental side of it also doesn't challenge me because I've played my whole life, and I know how to prepare for the season and the games."
The Lady Eagles aren't at their best yet, but they hope their skills and team chemistry continues to improve so that they are at their best when they need it.
"We all hope to continue to improve as the season progresses, and we know it's hard, but we can be really good if we find a way to do that," junior Haley Carr said. "Not only do we want to improve skills, but we also want to become better as one cohesive unit."