Tasting Restaurant Life in the Classroom
Students learn cooking skills in new culinary arts program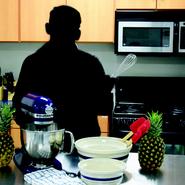 For the first time, students possess the ability to take a culinary arts class, a class focused strictly on the preparation, presentation, and the handling of goods in the exact same way that many restaurants operate.
Culinary Arts teacher, Kelly Eaton, covers everything in great detail. The class provides a foundation for those that wish to practice in a culinary field. Next year, the district plans to introduce a college pathway for students interested in a career in the culinary field, as well as an advanced and introductory course. Students truly experience what a job in a restaurant feels like.
"Students in the class can even get a ServSafe Food Handlers' Certification," Eaton said. "It allows them to work in a restaurant and it's good for up to 2 years. It's something anybody needs when working in the food industry whether it's at a diner or in a fast food chain."
In addition to the ServSafe certification offered to students, the FCCLA or Family Career and Community Leaders of America is an organization they have the opportunity to join.
"It's great that our school will be a chapter in FCCLA association. It helps the students get to where they want to be. It looks great on resumes and the association even provides scholarships for college. In just a year we've come a long way," Eaton said.
Before the culinary arts class, students took Nutrition and Health, a class without the benefits or the amount of information and experiences offered in culinary arts. It provides great opportunities for students.
"The benefits are great but above all, I want them to enjoy it. It's my first year doing anything like this with students, and I was unsure how this year would go. But now I see just how far we've really come," Eaton said.