New Responsibilities
Life changes found in quarantine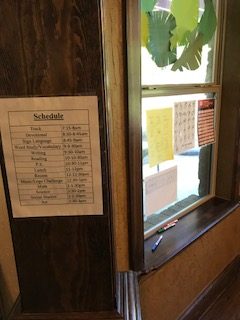 When people across America became confined to their homes, they found a much different lifestyle than the norm. One that people now refer to as the "new normal". School through computers, limited grocery supplies and constant handwashing represent a fraction of the drastic changes brought about by the coronavirus. For many students, this new living style prompted an entire change in home responsibilities.
In my own experience, taking care of my siblings takes up the majority of my new responsibilities. Everyday I act as one of their teachers, charged with helping them understand the home assignments. In addition, I help keep them on a general schedule that goes through all their school subjects and includes time slots for recess, music, gym, art, sign language and free play. Nearly every night, I put the four youngest girls to bed with a book and a song.
In addition to 'home babysitting', new responsibilities include making meals, constantly cleaning the house, and walking down the street to deliver care packages to my grandparents. As everything else in my life gets cancelled or postponed, it clears the way for a whole new brand of activities. Activities that I missed for quite some time due to extracurricular events, competitions or school.
With ten kids at home, I know it comes as no small relief to my parents that my sister and I, both high school students, are home to help. Despite the occasional hatred of extra chores and the task of wrangling my siblings, I enjoy providing relief to my parents. They work harder now than ever before as my father works from home and my mother plays teacher for eight children all at different school levels. In addition, with twelve people trapped in a single house, our schedule consists of never ending cycles of laundry and dishes. Cleaning a bedroom only for it to fall apart a moment later verbalizes the struggle parents are forced to face during quarantine.
From an oldest sibling to other older siblings, I encourage you to take on the new responsibilities with energy and a smile. Even to a youngest or only child, help as much as possible. Lighten the load of never-ending responsibilities that comes with being trapped inside. Especially now, when relationships are your most important aspect, so take this opportunity to strengthen them and stay positively connected to those around you as much as possible.