Passing the Torch
Decatur seniors give way to upcoming talent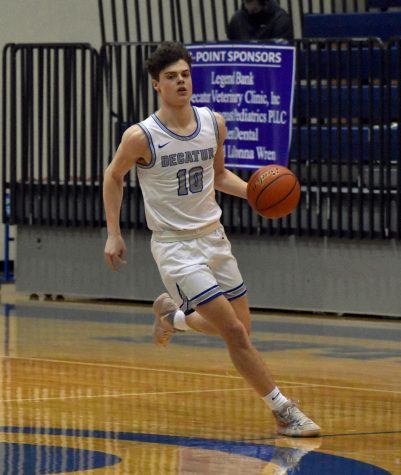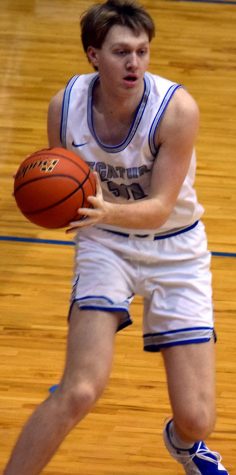 The men's varsity basketball team lost their regional semi-final game to the Seminole Indians last week. The loss ended the Eagles 2021 season, but did not take away from the many successes they experienced along the way. The loss also means the program had to say goodbye to seven seniors. It will be a huge loss going into next year, especially because three of the five seniors were in the starting line-up, and two more were major contributors off the bench.
"It's going to be tough losing so many guys, especially because they all did so much for us," junior Coleman Dykes said. "We all know we have to step up next year, but we will miss them."
As they say goodbye to many of the seniors, a lot of holes will need to be filled in order for Decatur to be as successful as they've been recently. That will be a tall order, and especially when it comes to seniors like 6"8, University of Texas bound Sam Wren. The Eagles' big man spot is a very important one heading into next season.
"I'm gonna really miss everyone next year, and I know that there are a lot of us leaving," senior Sam Wren said. "It doesn't mean they can't do the jobs well, because we all know how good of a coach they have and he will have them prepared for the year."
Decatur faced a lot of adversity in the most important time of the year. They lost their leading scorer Calaway Dykes, and one of the Eagles' best defenders in Hunter Higgs. This happened early in the playoffs and it forced the Eagles to have to go young and play with more inexperience.
"I think with all the injuries we had, it forced us to be young, which will help us next year with the experience we gained to win big games," head coach Drew Coffman said. "It forced guys to grow up fast and that's a big deal."
These obstacles obviously made the end of the year much harder for Decatur, but they found a way to keep pushing and win more games than many predicted they would after the loss.
"It was a really fun group to be around. Winning the right way was their priority," Coffman said. "There was no selfishness, no jealousy, no egos. It was just a bunch of guys that wanted to win. It makes it really fun to be a coach."
Decatur had a great year, especially considering all the things thrown at them along the way. The players leaving leave big shoes to fill, but they also have players coming up that have the ability to carry the torch.
"I've enjoyed watching these guys grow up. Some of them have been coming to basketball camp since third grade, so it's been a special experience," Coffman said. "My favorite part about this season has been how they showed how tough they were with all the adversity they faced. It was a true testament to their character."