Tough End to Magical Season
LEBB's playoff run ends with loss to Glen Rose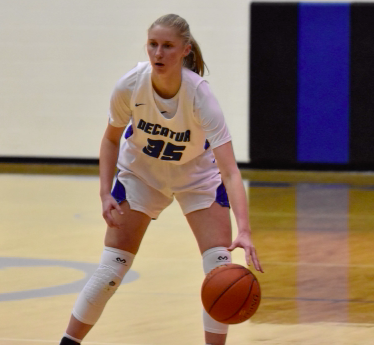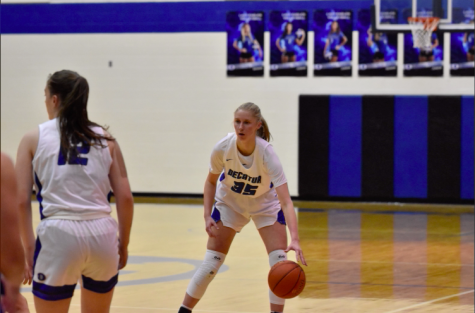 The Lady Eagles basketball team brought immense expectations into the 2021 Texas 4-A state playoffs. They won district, and dispatched the reigning regional finalists in the Bridgeport Bulls to make it into the playoffs. In the first round they cruised past Carter-Riverside 81-23. The Lady Eagles started off strong, and went into the second round against the Glen Rose Lady Tigers with a lot of confidence and expectations. Sadly for Decatur, they were upset 35-34 in a heartbreaking loss. Despite the loss, they had one of the most successful seasons in recent memory for the girls team.
"Our team was so close and it made this season so fun to be a part of," junior Grace Lowery said. "I'm gonna miss them because we built relationships that are hard to find just anywhere."
For seniors Katie Hale, Brison Hestande, Haleigh Murillo, Ainsley Boyd and Clarissa Martinez, it was their last game in a Decatur uniform.
"I'll miss the part where we all felt like a big family," Hale said. "If I ever needed someone to talk to, someone in the program was always there. You don't get that just anywhere."
The last four years for the seniors have been successful, and for many of them, the memories they made will never be forgotten.
"My favorite memory was just a couple weeks ago when we beat Bridgeport to win district," Hale said. "The feeling I had when we won was something different because we hadn't won district in my time, so it was super special for sure."
Hale committed to Hardon-Simmons this fall to continue her career. A career where she scored over 1,000 points which is not easy to do.
"College basketball is something I've wanted to do ever since I was little," Hale said. "I'm looking forward to the challenge."
Although the Lady Eagles season ended before anyone thought it would, it was still a special one. They'll lose a lot of production from this year's team, but the belief in what they can accomplish hasn't diminished around the program.
"We had a great year, but we think we are going to be good again next year," Lowery said. "We will obviously miss the girls graduating, but we believe we can be as good as we want to be."