Heavy lifting Begins
Powerlifting teams start new season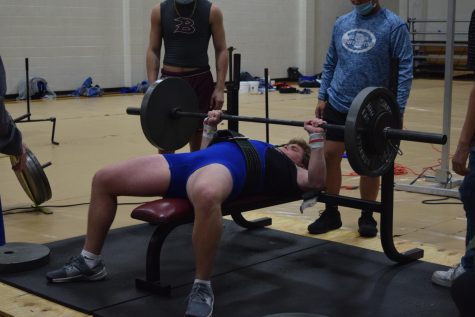 The powerlifting teams recently headed back to the weight rooms to start their seasons. They competed at Lake Worth on Jan. 14 and at Bridgeport on Jan. 21. The teams head to Weatherford on Thursday. Coaches Ty Lang, Scott Warner and Ian Ritchey lead the teams through their seasons this year.
"I enjoy watching our kids compete at a high level," Lang said. "When they learn that they are strong enough to increase their weight gains, it brings about a certain confidence. The ability to believe in oneself is one of my reasons for coaching."
Lang not only coaches the powerlifting teams, but is also the Offensive Coordinator for the Eagles during football season. Seeing victories in both sports, Lang knows what it takes to accomplish success.
"Obviously powerlifting success comes in different outcomes. For some, it's getting a PR in an event. For others, it's a chance to compete/win regionals or state," Lang said. "As a coaching staff, we love to see our kids outperform themselves!"
Junior Karter Houchin impressed at the Bridgeport meet last Thursday, posting a 480 pound squat, 275 pound bench press and a 450 pound deadlift. Houchin won his weight class with those scores which gives him a great start to the new season.
"I feel like I'm gonna have a great season because I've worked hard in the weight room with football and outside of it," Houchin said. "I hope I can reach some personal records this season, and I want to try and improve as much as I can every meet."
This season is Houchin's third in high school. Houchin plays two other sports, baseball and football, which makes it even more impressive that he performs so well in the powerlifting meets.
"Doing all three sports isn't difficult to me because I enjoy the challenge of all of them," Houchin said. "I just hope I can do my best in the ones I play and work hard no matter how hard it gets."
Both teams hope to continue having a great season, and improving with each meet.
"We all want to be successful this year, but we know it will be difficult," Houchin said. "If we all keep trying our hardest and work hard for each other, everyone will have a great season."