Changing The Game
Senior soccer player joins varsity football team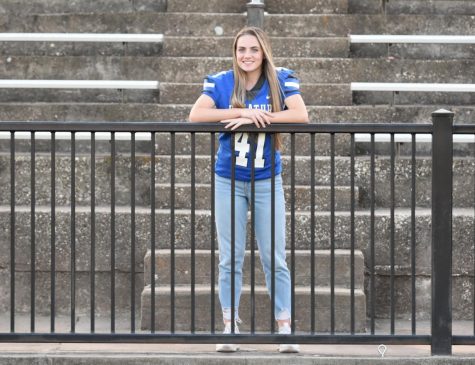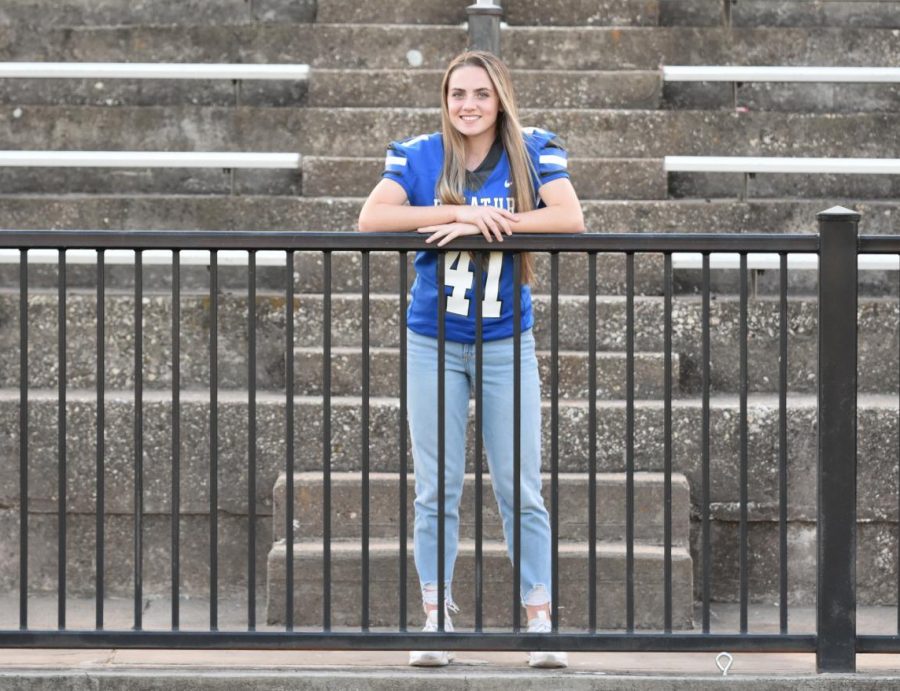 High school football.
Friday night lights.
11 guys on each side of the ball.
There's one problem with that last sentence. How in the decades and decades of football at Decatur High School has not one single girl graced the blue and white? Well, we can finally put that question to rest.
Senior Katelyn Chaney, a veteran on the Lady Eagles Varsity soccer team, has translated her kicking ability to the gridiron. Eagles coaches were looking for a new spark in the kicking game after a tough start to the season. Chaney was their answer.
Girls playing football means something. It breaks through the gender boundaries that undeniably plague sports, especially ones that traditionally appeal to one gender over another. To be the first female kicker in school history to break down those boundaries is quite the accomplishment, but it doesn't come without pressure.
"It's definitely interesting being the first girl to play football here," Chaney said. "I get a lot of attention for it and I've never liked getting attention,"
Chaney joining the varsity football team marks a milestone for Decatur, and is bound to bring attention to her, to the football program and even open up doors for future possibilities.
"This of course is getting me a lot of that attention, so it's putting me way out of my comfort zone," Chaney said. "Overall though, I've enjoyed getting to be a part of the team."
While the attention pushes her out of her comfort zone, this forward thinking is groundbreaking for so many reasons, but mostly because it allows Chaney to fulfill a goal and expand on her skills, as well as get to know a different team dynamic altogether.
"I never considered playing football before because it is so new to me and so untraditional," Chaney said. "After the coaches watched me kick, they said I had talent and could actually kick it, and asked me if I would ever be interested in playing. I was motivated to say yes because this would kind of force me out of my comfort zone. Plus, not many girls get this opportunity, so it was something I felt I had to do."
Considering Chaney came from a kicking background with soccer, it wasn't a drastic difference from her new sport. Yet, it is still difficult to switch over to football.
"There really isn't a huge difference in how I kick a football and a soccer ball," Chaney said. "If anything, I actually try and act like I am kicking a soccer ball when I'm kicking a football. That's when I get the best results."
Chaney has changed the game for Decatur football. Not only by being the new kicker, but she has changed the game for girls that might want to get out of their comfort zone. Whether that be football, or that be anything else that is difficult for them to try. She proved that it can be done.
"I'm so happy to have gotten this opportunity and to do something many girls don't even think about," Chaney said. "All I want to do is do what I need to do to help the team, and make the most out of this experience. I know it is something I will never forget."