No Rest for the Weary
Eagles gear up for battle with unexpected leader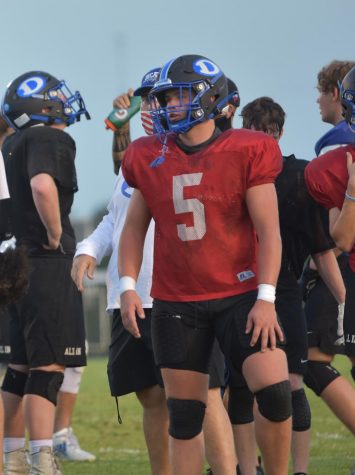 Despite all of the obstacles with the Covid-19 virus.
Despite weariness inflicted by everchanging UIL rules and regulations.
Despite the doubt that crept into many Texans and football fans' minds, football season begins.
Just when the players and coaches began to feel control over the obstacles coming their way with the constant UIL changes, senior quarterback, Landon Howell, the projected starter for this year's new offense, tore his meniscus effectively ending his 2020-21 campaign. Enter junior quarterback Karter Houchin.
"I'm nervous because I haven't played quarterback on this big of a stage," Houchin said. "I want to win, and we're gonna try and do what we have to to make it happen."
Houchin Plans to practice with and adapt to his receivers in the coming week before they open up regular season play against Argyle.
Also new to the mix, senior receiver Kreid Hafer
"It is going to be a challenge, not only because we lost our quarterback but because we have so many new faces," Hafer said. "We will all have to do our part and good things will come."
These tough circumstances leave the need for future adjustments inevitable. No matter what changes need to be made, Coach Ty Lang, Offensive Coordinator for the Eagles, and his players will make it happen.
"Obviously, losing Landon is tough because he's such a great player. He is still very valuable to this team and he's going to have to take some of the other quarterbacks under his wing and teach them what he knows during his recovery time," Lang said. " As far as our offense, the beauty of it is that we can adjust it to our personnel and we are confident that our guys can get the job done!"
With new processes and procedures caused by the pandemic, and injuries and new faces, this season proves to play out differently than all others before it.
"We lost a lot of experience from our 2019 team, so the biggest thing for our guys this year is to get a feel for Friday night lights and the excitement that comes from competing as a Decatur Eagle. They've got to slow the game down and execute at a high level," Lang said. "I'm extremely proud of the work they are doing on the field during practice and the time they are spending off the field watching film, etc. I have no doubt that they will compete their guts out from the first snap to the last!"