The Road to Playoffs Starts Here
Eagles finish basketball seasons, set sights on postseason run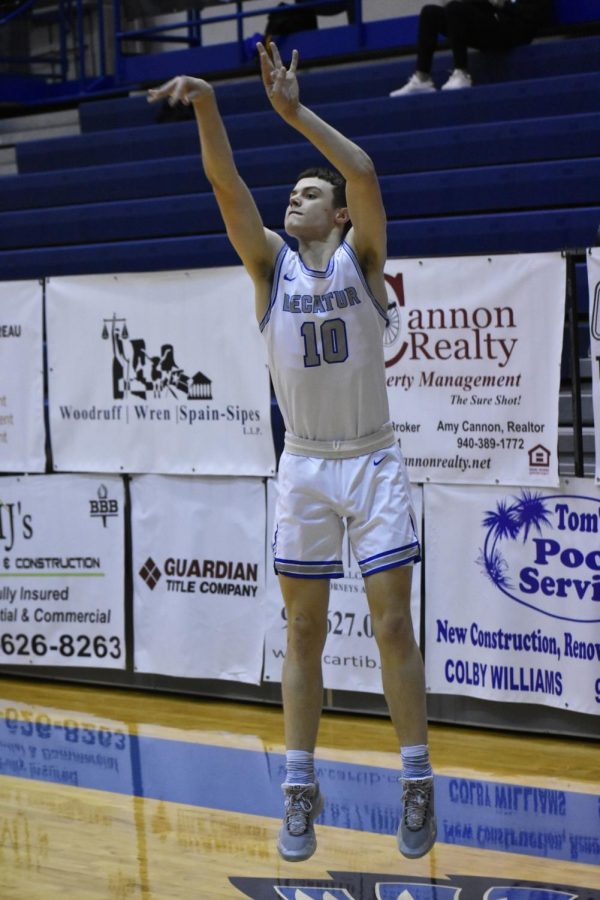 Regular season play just ended for the Eagles and Lady Eagles and it seems to the players and fans alike that the journey has just begun. Both teams look to shake things up a bit in the highly anticipated 2020 playoff season. Lady Eagles already took care of business in their first playoff game, dispatching Brownwood 40-28 and punching their ticket to the area round against Graham tonight at 6:30 p.m. at Jacksboro High School.
"We're really excited for the opportunity to move and play for even more," senior Katie Hale said. "We're already looking forward [tonight.]"
The Lady Eagles held Brownwood to eight points in the second half, and increased the momentum in the second half to overtake the Lions attack.
"I think we responded well from our poor play in the first half," junior Kenedy Houchin said. "We got down early, but we kept playing hard and we came out on top."
On the boys side, Decatur took down Krum 65-52, clinching back to back district titles and the one seed for the 2020 state playoffs. Decatur plays Godley on Monday at 6 p.m. in a rematch of the first round from last year at Weatherford High School.
"Last year we won every game in district and we kind of got the one seed a little easier than this year," senior Grayson Harris said. "We faced adversity losing to Argyle a few weeks ago, but we kept plugging and we found a way to win the district again."
The return to the playoffs bring the same expectations as the teams felt at the beginning of the season. The dreams of a state title and a ring still hold true, and the boys and girls journeys truly begin right now.
"We have big goals right now. We've had them all season so nothing has changed obviously," senior Gage Rieger said. "We think we can go all the way, but we have to take it one game at a time and just stay the course."
Although the real journey just now begins, the season both teams experienced remain special in their own rights. The Eagles and Lady Eagles still have so much more to give, and fans need to continue their support and follow both teams in the most important time of their seasons.
"Winning the Decatur tournament, the Whataburger tournament and the District championship has made the season extremely unique and special so far," junior Calaway Dykes said. "We still have a lot to give, and people can look forward to us getting better and trying to win it all."