Kicking Into Gear
Youth and experience help lead Decatur soccer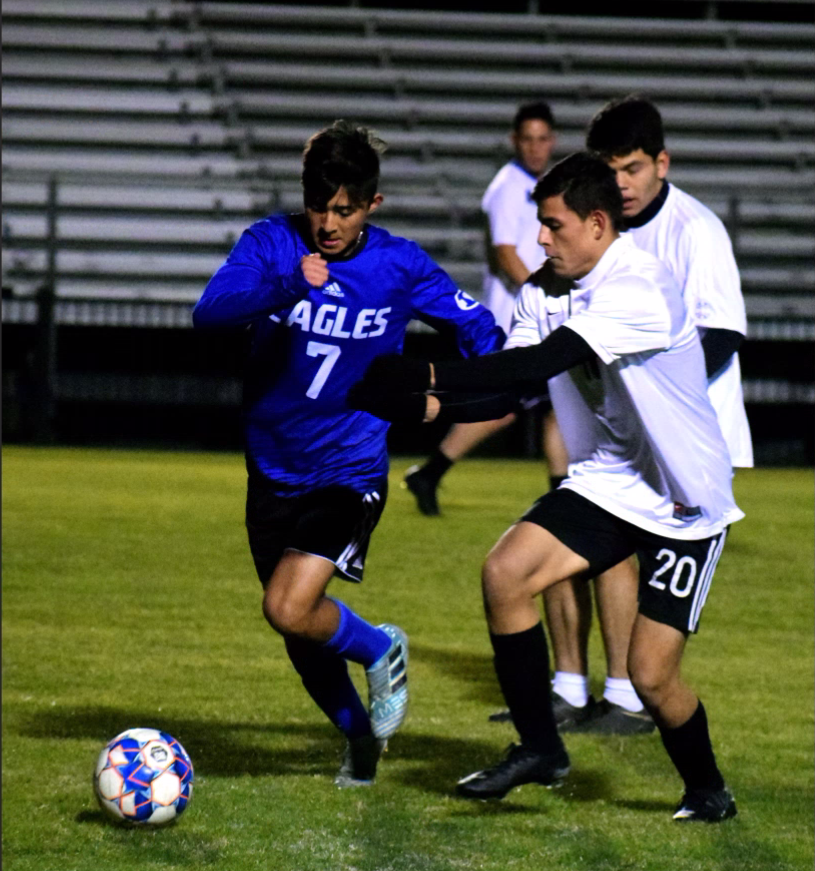 The 2020 Soccer season is underway and the Eagles and Lady Eagles have started the year strong. The Lady Eagles began the season 3-2-1. Both teams start district play February 14 against Argyle.
"This year will be a challenge for sure," freshman Miranda Mares said. "It will be tough for me because I am the youngest one and I have to play really well."
A freshman playing a varsity sport is tough and Mares must endure that tough job this season.
"I like to think that I am an important piece on this team, and I want to help anyway I can," Mares said. "We have a lot of good players, and being so young on a good team will definitely help me as I keep playing through the years."
A great start to a year surely gives a team confidence for the rest of the season, and the Lady Eagles strong beginning helps that for the games ahead.
"We have played really well and we are happy about the progress we are making," sophomore Yuriana Varela said. "We all enjoy each other and I think that helps team chemistry which helps us play better."
On the men's side, the Eagles started the year 6-2-1. A fantastic start for a team that has high aspirations this year.
"We have started the year well. I think that has a lot to do with the work we put in practice," sophomore Abel Rodriguez said. "We can still improve a lot. In practice, in being disciplined, in all the little things. We have a lot of room to get better."
Both Decatur teams bring a lot of experience, but important youth. The well rounded groups give Decatur depth and a chance to continue their upward trajectory.
"We all have things we can do to make us be as good as possible," Rodriguez said. "We all have to do our part and we have a chance to be really good."
The team's hope to win as much as possible to finish the season and hopefully send the seniors out on a high note.
"I'm most excited about district games because I think we have a pretty decent chance of doing well," senior MaryFaith Tune said. "Past years we haven't been great but we have a great group of players this year."
After four years, the players' knowledge grew on and off the field. The things the players acquired plays an important role in their future because the discipline and sacrifices they make everyday is present throughout all aspects of life.
"There has been so much I have learned over my years here at Decatur," Tune said. "I've learned how to play with others as a team, but I have also learned how to take charge when needed."
This soccer season definitely ranks as on of the most memorable for both teams.
"It has been so fun to be a part of this program, and build friendships that will last a life time," senior Sarah Dalton said. "This group of girls has meant so much."