The Boys Begin the Long Haul
Dallas starts their 2019 season with high hopes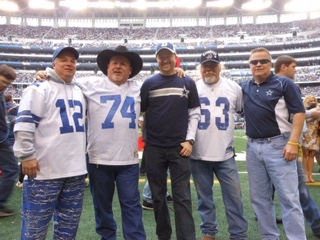 Football returned in a big way Sunday,Sept.8, as the new and improved Dallas Cowboys dismantled the New York Giants 35-17, and continued with their win against the Redskins 31-21 on Sept.15.
Dallas came into the season with the highest expectations after a successful and promising 2018 campaign. Dallas, for at least the first two games, lived up to those expectations with impressive performances from the offense and defense on Sunday. This new team dynamic brings excitement to Cowboys fans as they head into the new year.
"I think we're gonna win the Superbowl this year," junior Sam Wren said. "Their only other competition is the Patriots and Antonio Brown might not even play."
The Cowboys were picked to win the NFC East this year, and they have the talent to take that crown, but teams like the Eagles give the Cowboys a tough challenge.
"Everyone thinks the Eagles will be good this year, but I have other ideas about that," Wren said. "I think the Eagles are overrated for sure this year."
After a glorious 90s era that saw Dallas win three super bowls and create one of the greatest dynasties in NFL history, the 2000s had Dallas as a team searching for success. This new team creates hope for a franchise looking to recapture glory.
"I think that this team is the best we have had in awhile," Wren said. "I think that this will be like the 90s all over again for the Cowboys."
The Cowboys don't go without their fair share of haters too. Some NFL fans hope the Cowboys lack success again this year.
"I hate the Cowboys' a lot. I think they're overrated," senior Zach Tibbels said. "I hate them because I have always hated the hometown team."
Through the Cowboys' believers, die hards and even the haters, Dallas brings excitement with whoever they play.
"I think the Cowboys will be pretty good this year to be honest," junior Luke Villard said. "I think they can win the division, and I think they will win a playoff game, but I don't think they will win the Superbowl."