Lady Eagles Set to Defend State Crown
Decatur starts State title defense at first home tournament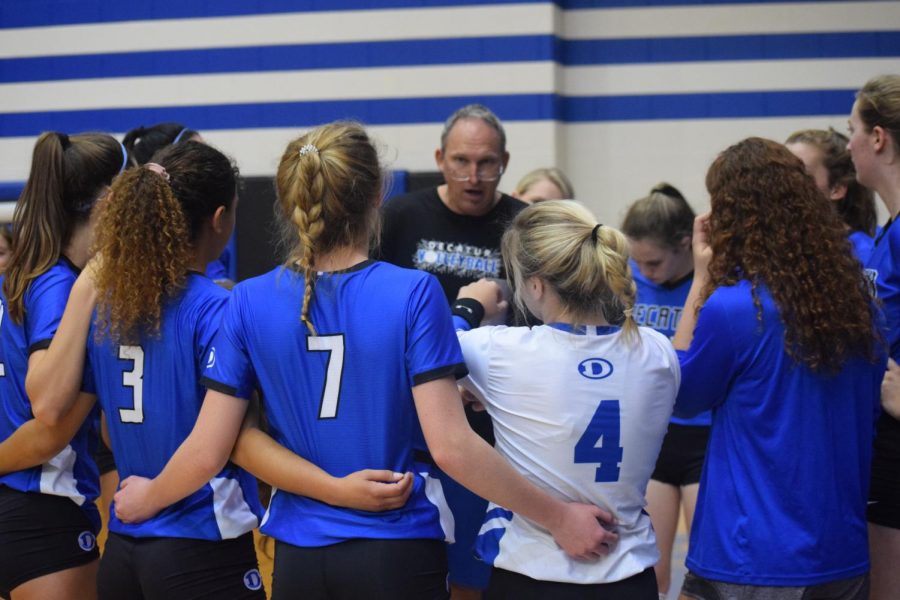 As students embark on a new school year, the volleyball team starts their own journey as they work toward another Texas 4-A state championship.
The Lady Eagles kicked off their first home tournament on today at 9:00 am against the Huffman Hargrave Falcons, with a win. The tournament features teams from all over Texas, and teams that play Decatur this season.
The Eagles games in the tournament test their team and their resilience. This slate of games gear the Lady Eagles up for another playoff run.
"This tournament will really help our team chemistry and we'll work better as one unit," junior Tayte Helton said. "Getting to play other schools out of district will help us when we play tough teams in the playoffs."
Winning state gives other teams extra motivation to dethrone the defending state champs, so any team that puts up a good fight earns a few bragging rights.
"We know we have to be ready for a teams best shot, and with the schedule we've played, we know we're ready for any team we play," Coach Clark Oberle said. "We have to bring our A-Game everyday because teams will be doing the same."
The toughness of Decatur's schedule goes beyond just the games they play, the seniors, the ones who pushed Decatur over the top last year, departed and left this young core of players a very challenging task.
"The young ones have really stepped up so far," Oberle said. "They have worked really hard to make up for those roles and new kids have taken on leadership positions."
Although the Lady Eagles are younger this year, they still possess important, big game experience.
The Eagles bring back one of the best young cores in the state.
"They've improved as leaders, and their decision making on the court is much better," Oberle said. "Now that they know what it is like to win, they want to do it again."
The seniors this year give the up and coming players in the program advice to help carry on the winning tradition present at Decatur.
"They have to work as hard as they can, and respect each other and the coaches, senior Heidi Heiens said. "It will go a long way for them."
With today's tournament, Decatur has a chance to keep pace with the top teams in Texas and jumpstart their season. Winning against some of the best teams gives the Eagles a good recovery after a rough start to the season.
"I'm really excited about this year, and how the team is getting along," Helton said. "I'm really excited that we have another chance for state."
With a Revamped roster, lies the opportunity for Decatur to claim another state championship this season.
"We have a chance to be really good," Oberle said. "If we come into each practice and game focused and ready to go, we can have a really successful season."