Yards and Yards of Football…
Eagles win against Whitefaces, soar into semi-finals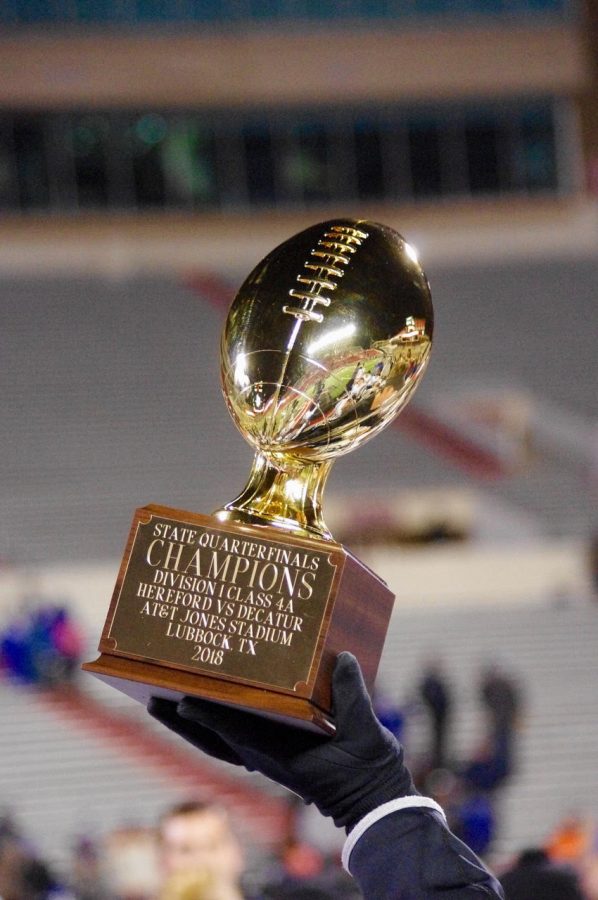 On Dec.6, the Eagles soared through the game against the Whitefaces with an ending score of 38-28. The players, band, Eagle Dolls and cheerleaders welcomed the victory due to four and a half hours spent in buses on the way to Jones Stadium at Texas Tech University. The football team proved not to let their 8-6 record stop them from closing out the season with a bang.
The Eagles prepare to take on the La Vega Pirates at AT&T Stadium tomorrow at 4pm. La Vega recently took on Argyle, who went undefeated all season until round 4, to secure their spot in the semifinal with a score of 31-14.
"Being the first team in 30 years to make it to semifinals feels great," sophomore running back David Juarez said. "We have overcome tough losses and worked together for a common goal, to win. It took us awhile to figure out how to play together, but now it just clicks and we win."
Making it this far in playoffs just proves that the Eagles possess the strength to overcome any obstacle thrown their way. Experts predicted them to lose every game, but instead of letting that news drag them down, it lit a burning fire that denies extinguishing.
"Every team we have gone against this playoff season has had better stats than us," junior defense outside linebacker Robert Webber said. "That didn't stop us though. We have been putting together new coverage and defensive schemes that will make it hard for La Vega to defeat us. We will not go down without a fight."
The season dramatically changed for these players when they entered the playoffs. They morphed from individual players on the field to a well oiled, working, fighting team who never fails to give 100%. They show that teamwork really makes the dreamwork.
"As a new student and being a sophomore on varsity all season has been a lot better than expected," sophomore safety Landry Phipps said. "I feel like this team has accomplished a lot and I am happy to be a part of it. Everyone treats everyone well and with respect. It isn't about one person or one player, but a team as a whole."
As the Eagles gear up for Friday's, expectedly challenging game. A lot of pressure weighs on the players' backs, especially for the seniors who risk suiting up for the last time. The players just want to go out there and prove themselves and show that no one intimidates them, no matter the stats.
"La Vega is a great team, but we are not intimidated," Athletic Director and Coach Mike Fuller said. "We respect every opponent and they are certainly a great one. We have played some great teams this year and some of them have definitely whipped us, but we have not been intimidated by anyone. The best approach for us to have is to focus on the most important play in football…the next one."