Another One Bites The Dust
Eagles eliminate Huskies, soar into round 4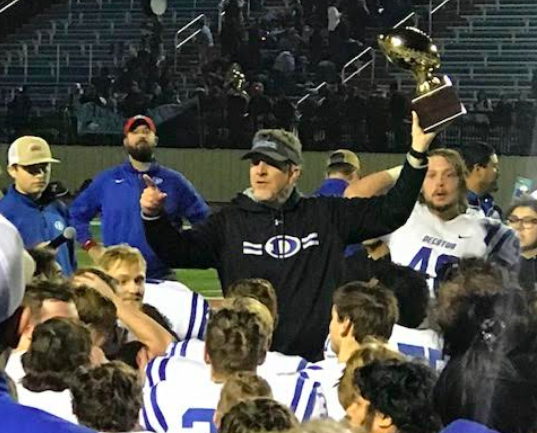 Hang on for a minute...we're trying to find some more stories you might like.
On Nov. 30, the Eagles made history by making it to round 4 for the third time in Decatur's history. Not only that, they also proved to everyone that their first victory against Hirschi happened for a reason. The football players continue to push themselves to new limits and play every game like it's their last.
The Eagles went from losing to Hirschi two times in the 2017 season to turning the tables and beating them twice this season. Despite the odds stacked against them with a 7-6 record vs. Hirschi's 10-3, record only losing to a 6A team and the Eagles twice, the players pulled through.
"It felt amazing to return the favor to Hirschi," Athletic Director Mike Fuller said. "After losing twice to them last year and getting knocked out of the playoffs by them, it is very rewarding to have accomplished what we did. I couldn't be more proud of our kids and the way they have persevered through the tough times we went through earlier."
Now, Decatur travels far to play Hereford at Jones Stadium at Texas Tech University. The Eagles gear up to face the Whitefaces at 6 p.m. Thursday night.
"It's just like every other game," senior offensive lineman Colby Murillo said. "We just have to go out there and play football. We play like it's our last game because for some of us it might be."
The coach's and player's hopes rise for this game. Practice continues and coaching strategies stay the same because, if why fix something that isn't broken?
"To prepare for this game we are doing what we always do," Coach Fuller said. "As coaches we have studied Hereford thoroughly, and we will install our game plan each day this week. Our kids are really dialed in right now on what we have to do to be successful."
After a rocky beginning of the season, the Eagles prove they became a new team.
"I'm just blessed to have such a great group of guys to push the team and me," junior quarterback Roman Fuller said. "We have worked so hard and it has really paid off. We are ready to play and hopefully pull out another win."
The stakes heat up as the competition narrows, but the Eagles prepare for every possibility. They continue to soar and improve with every game.
"We feel great about making it to the 4th round," Coach Fuller said. "When the playoffs started, there were 64 teams in our division and now we are down to 8. We want nothing more right now than to be in the final four. Hereford is a great team so we know it will not be easy. However, we didn't sign up for easy. We plan to enter this game with confidence and give our best effort on every play."