Adios Andrews, Hello Again Hirschi
Eagles take on the Huskies for second straight year in round three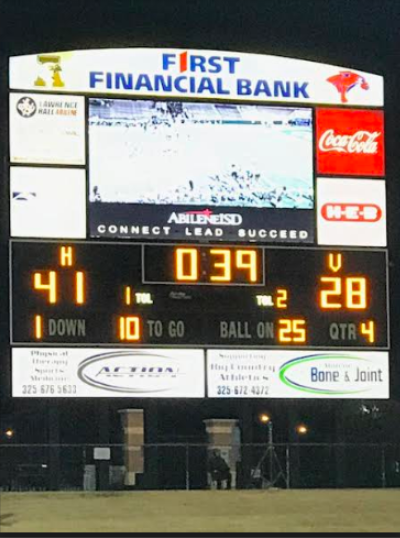 Hang on for a minute...we're trying to find some more stories you might like.
On Friday, Nov. 23, Decatur came out victorious against Andrews High School in round two of playoffs at Shotwell Stadium in Abilene. This means the Eagles play Wichita Falls Hirschi on Friday, November 30 for the second time this year. The football team continues to work hard and give it their all in hopes of advancing past Friday's game.
After getting knocked out of playoffs last year in the third round by Hirschi, the Eagles seek vengeance. The tension and stakes continue to rise with one thing to prove: the first victory this season was no fluke.
"I feel confident our team will do great," junior quarterback Roman Fuller said. "Playoffs provides such a great atmosphere for a great sport. Losing last year in the third round and playing the same team has really pushed us to play and practice harder."
Long and hard practices occur daily in preparation for the big game, but the player's spirits never falter.
"I love practicing with my team," junior running back Gunner Ragsdale said. "It is one of my favorite parts of football. I just like being with my friends."
The players know this game presents itself as a challenge, and they need to play hard and at their best in order to win. They focus on preparing for any scenario thrown at them.
"We will continue to practice hard and push harder," Coach Marcus Grgurich said. "We are using the same practice techniques that we used to win the first two playoff games. We are just putting another quarter in."
Playoffs, even though stressful, bring joy and excitement. They also bring the team closer together and help promote more school spirit.
"The better we do, the more involved the students get," Fuller said. "No one wants to cheer for a losing team, and I'm very proud of my team for doing so well. It means a lot, we've come a long way this year and we are not ready to be over yet. I love these games because we have our backs against the wall. It's either win or go home."