Prepping for the PSAT
Students slated to test tomorrow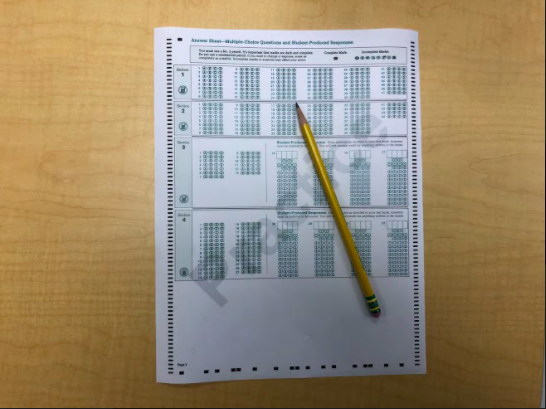 Aimed at sophomores and juniors, the PSAT gives students a glimpse into what the real SAT is like. By quizzing the test takers in four different areas, it allows students to see where their strengths lie and identify areas in need of improvement. Each October, DHS proctors a PSAT test during the school day, and it's almost time for the test to begin.
The PSAT is scheduled to take place at DHS on Wednesday, Sept. 13. All sophomores were signed up by the school, and freshmen and juniors had the option to pay a $17 fee to take the test. The test takes about two hours and 45 minutes and has a maximum score of 1520.
The math section includes a calculator and non-calculator section, with both sections focusing on algebra, problem solving and a few advanced math topics. The calculator and non-calculator include both multiple choice and grid-in questions. Students receive 25 minutes for 17 questions in the non-calculator section and 45 minutes for 31 questions in the calculator section.
The reading test focuses on comprehension and analysis based on five different passages. It includes one fiction passage, one passage or a pair of historical passages, two science passages and one passage about a social science concept. This section has 47 multiple choice questions and an allotted time of one hour to complete.
The writing and language section tests grammar knowledge, using words in context and how to best express ideas in writing. This section is entirely multiple choice and can range from fixing the spelling of a word to replacing an entire sentence. All in all, this section has a total of 44 questions and takes 35 minutes to complete.
For sophomores, the PSAT allows them to practice for future standardized tests, whether that be the ACT or SAT. It acts as an entrance into the world of college admission exams. By giving these students a shortened but similar test, it helps them know what to expect on the real thing.
Unlike sophomores, most juniors are already turning their attention to the SAT and ACT, but those choosing to take the PSAT again do so for the incentive of scholarships. By taking the PSAT during their junior year, a student qualifies for the National Merit Scholarship Program. Qualifying for this program gives the students a chance to win a scholarship, and even more practice for the SAT and ACT.
Any students taking the PSAT can find their test section and where to report to tomorrow morning on lists around the school. For more information about the PSAT, ways to study and where to find scores, visit https://collegereadiness.collegeboard.org/psat-nmsqt-psat-10.