Crowning a Queen
Pageant kicks off Wise County Youth Fair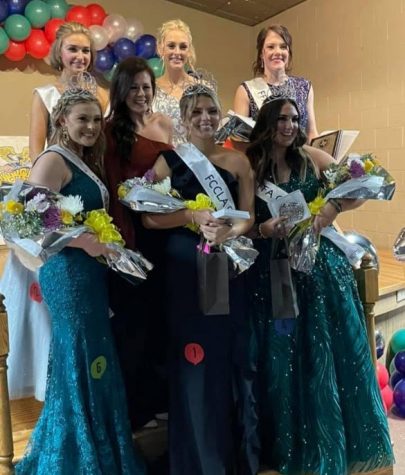 In the first week of March, kids of all ages flock to the Wise County fairgrounds. Fighting the last of the winter chill, teenagers and children alike participate in the Wise County Youth Fair, hoping for first place as they present their projects. Festivities for the week include livestock shows, speaking competitions, a fashion show and the display of crafts and baked goods in the Women's Building. In the dimly lit barn that's situated in the middle of the fairgrounds, with air coated in dust, the smell of manure and livestock in every corner, the glimmer of a crown is the last thing expected.
As integral as a judge is to a goat show, the role of Queen plays a large part in the Youth Fair. Each 4-H, FCCLA and FFA chapter in Wise County nominates one girl to represent their club at the annual Queen's contest, where the girls compete with each other in their respective categories. The competitors first participate in a stage walk, then answer an onstage question, ranging from questions on who inspires them to their favorite aspect of 4-H, FFA or FCCLA. After the single question, the judges, including a former Miss USA this year, go to a private room to deliberate and decide, leaving the girls to wait.
"I was pretty nervous because it was way out of my comfort zone," junior Riley Christian said.
Christian represented the Decatur 4-H club in this year's Queen's contest. Through the club she shows pigs, steers, participates in livestock judging and mohair judging. Her extensive resume helped her win the 4-H crown, with senior Katie Daniells coming in as first runner up.
"My question was if you could change one thing about the world what would it be," Daniells said. "I said I would want more Americans to know where their food comes from. If the next generations know more about their food and how it's grown, not only can we be healthier, but there will be more support for the farmers that grow our food."
Daniells competed for the Wise County 4-H Horse Club, which she's been a member of for seven years and an officer for six. Both sashes for the 4-H division were snatched by DHS students and the Decatur FCCLA representative, junior Avery Thompson, won the title of Queen for the FCCLA category.
"When I first found out I was going to be in the contest, I wasn't nervous. As soon as it was my time to walk up on stage I started getting nervous," Thompson said. "My favorite part of the night was being crowned and chosen to represent FCCLA."
Thompson joined the FCCLA chapter last year and has since been elected as chapter president and participated in community service projects with the group. Last year, Thompson earned the chance to go to regionals for interpersonal communications and planned to go to state, but COVID put those plans on hold. While being crowned Queen or runner-up seems like the end for these girls, their duties haven't even begun. Each Queen and runner-up make appearances at various shows and events throughout the Youth Fair week and hand out ribbons and prizes to the competitors. Even when they're not handing out ribbons, part of the allure of being Queen lies in the chance to soak up all that Youth Fair entails. For many, the hard work they put into animals, projects or crafts amount to this competition, and the opportunity to experience it firsthand is something these Queens and their runners-up won't soon forget.
"I am definitely looking forward to the Youth Fair this year and representing my club," Daniells said. "I'm really excited to bring all my livestock projects, horses and horticulture projects."