Schedule it All Out
Counselors begin helping students choose courses for next year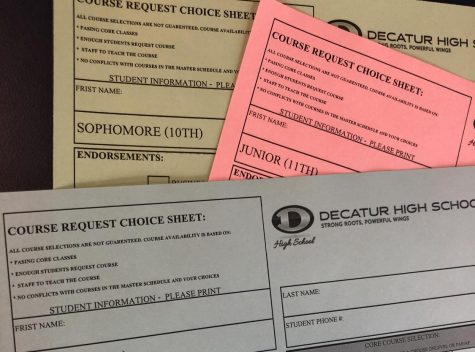 Every year, counselors meet with students at the beginning of the spring semester to discuss course requests for the following school year. For students, classes determine what type of career path they choose to go into and shape them to become better academically or in sports. With this being a complicated year, counselors needed to change up the old process to fit better with the students at home. In order for this to happen, they gave them the same information, but in a slightly different format for the online students.
"We are presenting to each grade level with the updates to new courses and what they need to do. Then, we are meeting individually with each student who is in person," counselor Kristy Phipps said. "We created a version for our online learners of the same information. Their forms look a little different, but essentially it's still getting the same stuff from each student."
Since schedules start so early, it remains imperative that students hand them in as soon as possible to give counselors time to sort through all the information. In order for counselors to give students the classes they desire, they go through schedules and determine how many teachers they need for the following year. Though students fill their schedules with what they truly want, sometimes counselors need to pull classes that students put down in their alternative electives, because of problems with another class.
"Alternatives are important because many times schedules "lock up" where students' cannot take what they are wanting to take due to placement in the master schedule," counselor Catherine Kelly said. "The alternates help the counselors choose a different class to hopefully make a students' schedule work."
Most importantly, students need to visit with their counselor if they begin struggling with filling out their schedules because they want to see every student succeed. Students need to enjoy their classes that they take and counselors help with that.
"Complete as much as you can," Kelly said. "And if you have questions, we will meet with each one of you one on one and we can help!"