MMS Fire Destroys Classroom
STEM lab destroyed, entire campus forced into online learning until after Thanksgiving break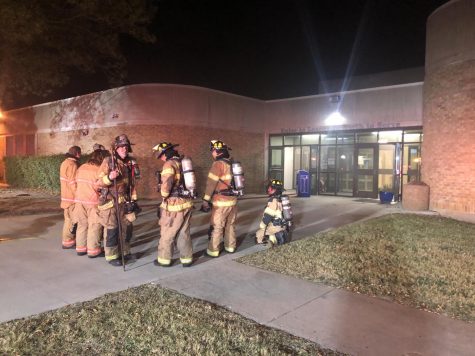 Due to an electrical problem at McCarroll Middle School, a fire broke out in the STEM classroom and left the contents unsalvageable. It not only left the classroom in ruins, but the heavy smoke forced students to transition to online learning until after Thanksgiving break.
"McCarroll is still on track to open after Thanksgiving," Director of Communications for DISD Sally Rodgers said. "We have staff there seven days a week, 12 hours a day working hard to restore the building."
Luckily, this fire occurred outside of the school day, leaving everyone unharmed. Multiple other fire departments, Alvord, Bridgeport, and Paradise, came to help the Decatur Fire Department contain this outbreak. The classroom remains an issue, but people in the community and friends of STEM teacher, Christopher Benjamin, reached out to help him offering their time to clean and raise money.
"When we return, both the students and I will need to get creative in our projects and either continue to do more technology projects or try to recycle as much as possible, until I get materials, tools replaced and my room back in order," Benjamin said.
With no materials to continue class as usual, students continue to work with the materials around them. Benjamin plans on using this opportunity and his five years of STEM classroom knowledge to help him in obtaining more materials he knows students need to succeed.
"When I first started STEM, I was excited for the opportunity, but I did not have a clear idea of how I would run my program or even set up my room," Benjamin said. "So this opportunity allows me to reset my mind and start over with a clear vision and move forward with confidence!"