Band Stands
District builds BBMB spirit area behind south end zone to share with Eagle Dolls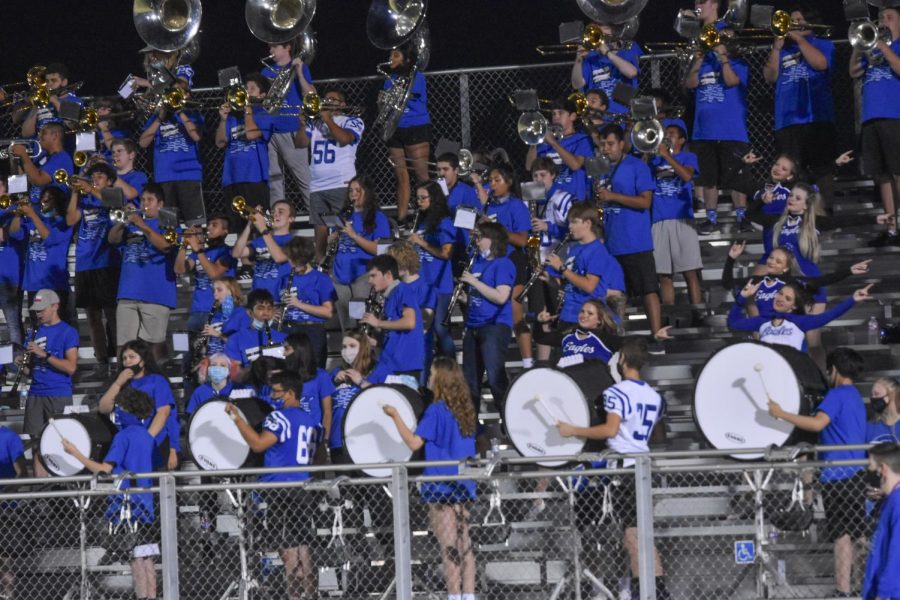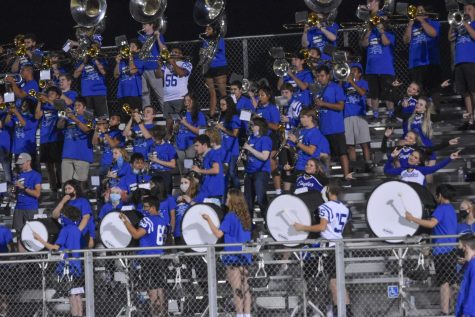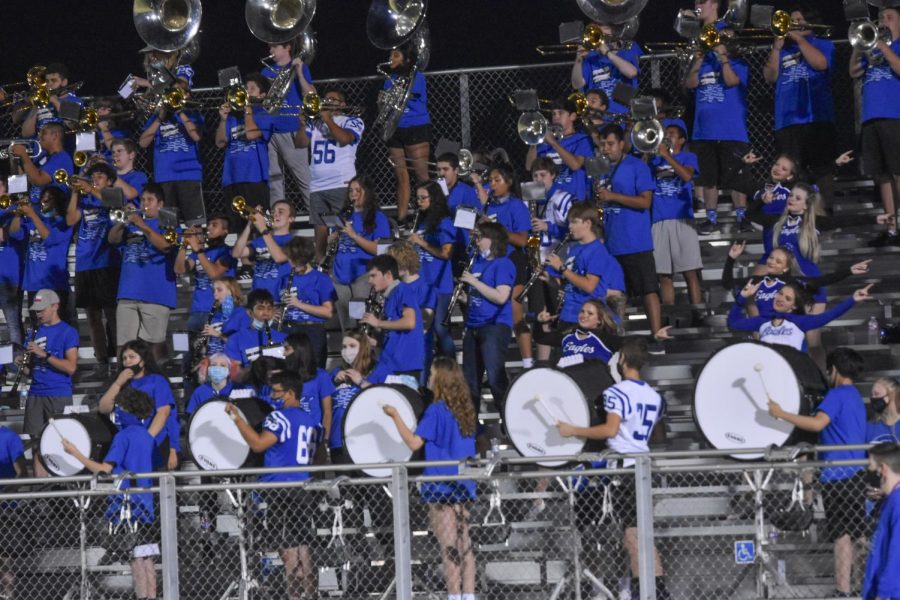 Peering over the field, the Big Blue Marching Band now resides in a new place they recognize as a permanent home. After enduring closely spaced stands built of concrete, the marching band easily adjusted to their new place in Eagle Stadium.
Walking up the reflective silver stairs on the south side of Decatur Eagle Stadium, band members find themselves enjoying the latest addition to the football field. Over the 2020 summer break, Decatur ISD constructed new football stands for the marching band due to a consistent increase in the numbers of students joining the BBMB in recent years.
"The new stands this year are great, because of how much more room we have to spread out and the amount of room to dance now," sophomore Austin Prince said. "Just a better view of the field this time."
"It's [the stands are] great because last year I wasn't able to jam with my friend because there was no room. But now I can, and it's so much more fun," sophomore Aiden Lowe said.
After enduring the old stands for at least a year, band members express no sympathy or nostalgia for the old concrete stands.
"No, I didn't really like the old stands. We were so close to the fans and a long trip to the field," sophomore Yuri Conde said.
Someone else commented on the uncomfortableness and inconvenience of the old stands.
"Not everyone fits [on the old stands] so we had people on the field and others all crammed in and uncomfortable," Lowe said.
The stands proved to be an upgrade from the old stands; However, some disadvantages and inconveniences arised due to the location and the gaps between seats and floor.
"A major dislike about the new stands that I have is it's a lot easier to drop something beneath the stands and damage something badly," Prince said.
Another member noted the rush to exit the stands causes trouble, traffic and cramming.
"Everyone goes in and out of one entrance making third quarter breaks and halftime a pain," Lowe said.
According to veteran band members, the bonus of more space and actual seating offering more comfort overall far outweigh the possible drawbacks band members point out. Minimization of damage to equipment and instruments becomes possible by imposing extreme caution, which closes the case for the biggest threat of the new stands.
"I love the new stands, they're really nice and overall we have an amazing view of the game," Conde said.