Walk a Mile in Their Shoes
Generous donation takes the pressure off one step at a time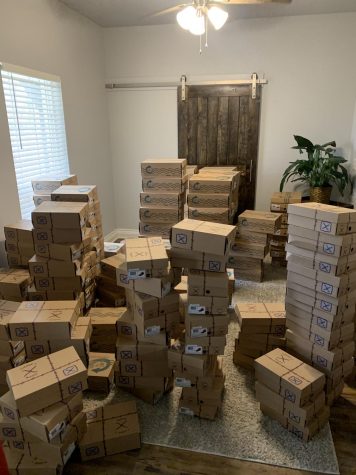 Each year, teachers face unique struggles that each of their classes bring. The problems range from unruly students to those who refuse to turn in their work, but 2020 held its own setbacks. This year, teachers began to teach two classrooms: online and in-person. Essentially doubling their workload, teachers struggled to see a light at the end of the tunnel. Luckily, Tricia Armstrong had just the solution.
On Nov. 18, Armstrong donated a pair of Twisted X shoes to every teacher, teacher aide, office staff, coach and trainer at DHS, making for a total of 100 shoes. She originally saw the shoes on the Dazzle Me Pink online auction when the idea struck her.
"I saw this group of shoes and thought it would be a great gift for our teachers who have had such a tough year, and at the same time, bring awareness to breast cancer," Armstrong said.
Dazzle Me Pink, an organization that raises money to allow women to receive free mammograms, uses the auction as their main source of fundraising. The shoes donated to female teachers include pink accent colors along with an embroidered pink ribbon for breast cancer awareness.
"I loved that the pink shoes represent and bring awareness to breast cancer because we all either know someone or have been touched in some sort of way by breast cancer," Armstrong said. "Breast cancer awareness is in the month of October, but breast cancer does not just happen in the month of October."
The shoes not only raise awareness for a good cause, but lift staff member spirits in a time of confusion and uncertainty. The overwhelming kindness of Armstrong's donation struck a chord with many of the recipients, including Associate Principal Brett Phipps.
"It was rather emotional to think about people who care that much about teachers. As we all sat there listening to Mrs. Armstrong tell the story about how this all happened, I was just grateful that our teachers got a little boost at just the right time," Phipps said. "It is wonderful for someone to realize their hard work and want to do something nice for them."
The gratitude Phipps feels seems to extend to every teacher that received a pair of the shoes. The donation of the Twisted X shoes wasn't only generous, but practical as well, with teachers in every classroom wearing them to withstand long days of teaching.
"When I received the shoes, I was excited about the style and type, because they were actually on my Christmas list. I really like wearing them and they are comfortable to teach in on a daily basis," Miles Vann said.
It slips the mind of many, but the sacrifices that teachers made this year is not lost on Armstrong. She held the position of the President of the PTO at McCarroll Middle School last year, volunteers at various Decatur campuses and substitutes regularly for absent teachers. Stress is no stranger to her, but she knew even if teachers had a lot on their mind, she could at least try to take some pressure off their feet.
"I had said that there is no way I could walk in the shoes of our teachers this year during this COVID mess," Armstrong said, "but I could at least give them a pair of shoes to do the walking in.