Teenager Leads Debate Team
Junior teaches extracurricular activity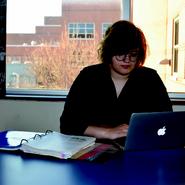 Not a sound in the room, everyone inside with hands hovering over their laptops' keyboard and track pad. All the competitors take in deep breaths, then exhale, and then… beep. The madness ensues, as junior Lindsey Peña reads the documents she meticulously spent allsummer researching and writing in front of her at a speed of 400-600 words per minute to make
her point in this clash of brains, and persuasion of judges, or put more simply Debate.
Last year, former Spanish I and II teacher, Mr. Aaron Renaud fought to rebuild the Debate Team, and that same year, he resigned his position as teacher and sponsor, and with no one to teach students to compete, it looked as though debate would no longer exist. That is until
Peña spent the entirety of this past summer researching the ins and outs of debate, and writing the main affirmative case also known as an "aff" case used during competition.
"During a debate you and a partner argue and defend one of two sides of a case: "aff", short for affirmative or "neg", short for negative," Peña said. "First, 'aff" goes and, and then 'neg' will go and try to contradict or tear their case apart. It had to be done in a specific way and there's a lot of preparation that goes into a case, so it's really rewarding when you win it."
During her research she typed a case 40 pages in length. Her determination and interesttruly shows.
" After I read Les Miserables I wanted to do something similar to how the characters spoke and thought it'd be fun if it was an actual thing you could do. I found out there was a debate team, and here we are," Peña said.
Before he left, Renaud taught the team how to debate and write a case, and sponsored the team.
"Renaud showed us and did everything. When my partner and I wrote a case and competed. We lost because we formatted the case wrong. Our case had valid points but it was being torn apart in front of us. Though we lost that case, the loss lead to my enjoyment for debate. It made me want to improve. I learned from that." Peña said.
Though she was unprepared and has lost a few of her cases, something that many may find discouraging, she found joy in debate, so much so that Peña spent several hours researching and writing and now in the past few weeks of school, coaching the debate team that has nearly doubled since last year.
"The team is so much bigger compared to last year, and we're also way more prepared compared to last year. With the help of Mrs. Hampe, we've had a place to meet and work on cases. And with all I learned, I'm going to make sure we never go in blind again, we'll read andargue so fast the opponent won't know what hit them," Peña said