Glory Days Gone By
Product progression: Profit or prosperity?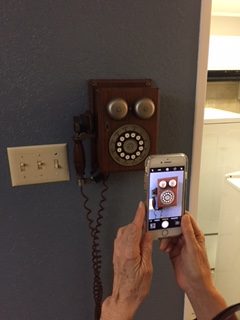 Hang on for a minute...we're trying to find some more stories you might like.
Flying cars, robots and holograms. Items frequently associated with the fast approaching future. Even though these futuristic icons evade appearances in the modern day world, human technology still shows evidence of many advancements from the stone tools and crude fires of cavemen. However, all of these new advancements either really improve society or they simply provide another excuse to act lazy. Years pass and many different scientists create inventions that really help daily life. The telephone, lightbulb, medical equipment and advanced farming equipment improve daily. On the other hand, some modern day inventions seem to hold unnecessary improvements that only contribute to people doing less, physically.
Many objects reinvented into automatic versions, result in younger generations not even possessing the knowledge to use the original. One example comes from a recent video depicting a group of college students. The main college student in the video tries to open a can using a handheld can opener, but for him, it comes off as an impossible challenge. For nearly thirty minutes, he struggles to figure out how the contraption works. Either from the encouragement of his fellow students, or sheer luck, he manages to open the can and the whole room bursts into celebration. Just forty years prior to this event, everyday actions included using a handheld can-opener. Speaking of kitchen appliances, in a recent article by Megan Wollerton, titled "Get
your shake on the go with Panasonic's roving mini fridge", she reveals that an electronic company works on building a mini refrigerator that responds to voice commands and brings someone their food or drinks. Leaving the ability to walk to a refrigerator useful and important, but for how long?
Besides the expansion of modern technology, what students learn in school changes at the same time. Many schools no longer teach how to read and write in cursive. Many siblings, only a couple of years apart now experience a significant difference between them. One possesses the ability to read and write in cursive with ease, while the other possesses the opposite. This change devastates very few people, except for the fact that important signatures require the use of cursive, not to mention the professionalism behind this style of writing. Important parts of older American culture seem to slowly lose their relevance to modern day people.
The work companies put into creating and improving technology introduce fantastic renovations to daily life. However, it seems as though American priorities show massive change. Almost any new invention created makes American lives easier and more comfortable. Instead of using the vast American resources to help other struggling nations, those same resources remain squandered on the creation of a new electronic lifestyle around the old American one. Much of the old culture gets lost in the distraction of phone screens and video games.
Change flows through all world history and still remains ultimately inevitable. In fact, a lot of change provides good things. Suggesting to stop improvements in order to live in the past shows the wrong idea, because advancements help when used in the proper method. The main point of this argument simply shows the difference between improving random nonsense and actually striving to make the world a better place. As mentioned earlier, many new advancements
help civilization such as transportation, medical devices and communication. Just these three instances of technological renovations show examples of saved lives and a factor that unites much of the community. Modern student experiences differ from the memories and skills commonly seen before their time, however as years progress, it fulfills just what they need.