Pokémon Go Sweeps the World with Mixed Reaction
Highest Downloaded App Deemed Controversial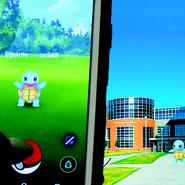 On July 1 of this year, the Pokémon Company in collaboration with Niantic released their long awaited mobile game, Pokémon Go. It was met with a reaction even the developers didn't anticipate. It surpassed Candy Crush as the number one downloaded app within the first week. However, even with an initial positive response,the app has been linked to several incidents of people irresponsibly using it while traveling and in some cases, trespassing. This has lead to a negative image of Pokémon Go in the eyes of many, but this app has had many positive impacts as well.
As mentioned before, the app surpassed King's Candy Crush making it the most downloaded app on the Google Play and the Apple app stores. In addition the app led to doubling the share value of Nintendo stock shares. Pokémon Go has been considered by many to be the most successful Pokémon game out of the 122 known commercial Pokémon titles.
"I love the game. It does something that many games don't encourage which is going outside and being active, and one thing it has lead to is me going to meet new
people," sophomore Gavin Haynes said.
Pokémon Go is the only game under the Pokémon moniker that requires outside activity or movement, due to the need to walk distances of up to 6 miles to hatch eggs.
Also, little to no progress can be made by staying at home, as different Pokémon will only spawn in areas for certain periods of time and to compete in gyms or receive items from Pokéstops a player has to be close to these areas to access them.
"I'm level 20, and in that time not only have I caught a lot of Pokémon, fought gyms, hatched more eggs than I can remember, but also met lots of people. It's a very
popular and fun app, that way," Haynes said.
Due to its popularity, nearly every time someone goes out to play the game, they can count on someone else playing the game in the area.
"I remember when I was able to play it all the time during the summer, that there would be other people on the streets playing, challenging gyms, helping others out telling them where rare Pokémon are, it was great. There's nothing else like it," Haynes said.
There are several people playing the game, and not everyone is as friendly as others. Also, there have been several car accidents repeatedly linked to playing the app while driving. However, just as people abuse alcohol or text while driving, the developers can't be held responsible for the actions of those who break laws using their products. Pokémon Go is an app created for the entertainment of all generations. From those just getting into Pokémon, to those who may wish to relive dreams from their youth of walking around the game's setting, Kanto. Anyone can get into it, even those just wanting to find a game to play with their friends can find something to enjoy with this app. Despite all the negativity linked to the game, the positivity is where the focus should fall.