Madam Vice President
2020 brought the U.S. another first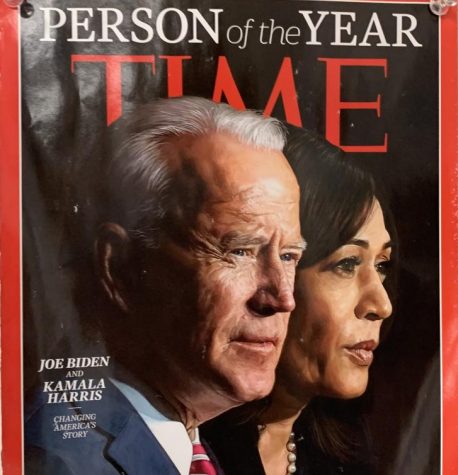 Every four years, a presidential election takes place with the winner's inauguration set for Jan. 20. After years and years of the same schedule, the practice feels commonplace to most Americans. The President of the United States, along with his pick for Vice President, take oaths to serve the country to the best of their abilities. Even though President Joe Biden is the 46th President of the United States, his inauguration still brought something new. The woman standing next to Biden throughout the whole ordeal, Vice President Kamala Harris, became the first woman to serve as Vice President.
Vice President Harris, born in Oakland, CA, was introduced to civil rights and politics at a young age. Her parents took her to civil rights demonstrations while she was still in a stroller, instilling a sense of justice into the young girl. As she aged, it's no surprise her interest lied in politics. Vice President Harris attended Howard University to earn her bachelor's degree in political science and economics, then enrolled at the University of California, Hastings College of Law.
For Vice President Harris, graduating from the university was just the beginning. With each new position she rose to, she broke barriers along the way. Her mother emigrated from India and her father was Jamaica-born, making her both African American and South Asian American, meaning she's even more unique in a largely male dominated field. After ten years of working her way up the ladder, Vice President Harris became the first woman and first African American to be elected as the California General Attorney. Then, six years later she beat her opponent and won an election for a California Senate seat. She made a name for herself from her role on the Judiciary Committee, where she questioned Brett Kavanaguh and Jeff Sessions in their separate hearings. With her work in the Senate and as California's General Attorney building a strong resume, Vice President Harris announced her campaign for presidency in 2019. While she had a promising start, her support wavered before the start of 2020, causing her to back out of the loaded Democratic field. Months later, Biden selected Harris as his running mate, citing her work ethic and achievements for working class people. When the election finally came around and the dust settled, Biden won the ticket, making Harris the first woman Vice President and only female to be elected to such a powerful political position.
The path from California to D.C. wasn't an easy one. She's been met with opposition, doubt and hostility, but she never let that deter her. Even in a global pandemic, she persevered and continued taking the steps to make it to the White House. In a year that brought us once in a lifetime experiences, let's hope electing women to executive branch positions becomes the regular.