The Cursed Day
Superstitions abound on Friday the 13th, date further back than many realize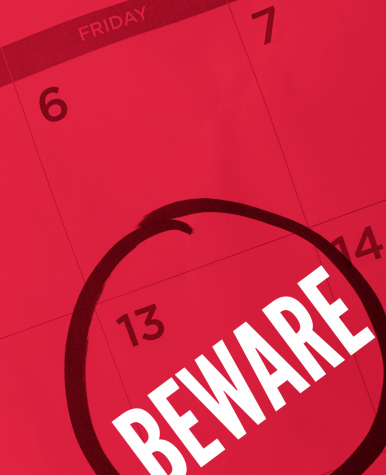 Black cats, walking under ladders and breaking mirrors- all things that constitute bad luck according to superstitions. Superstitions usually stay in October, but this year November enjoys its own eerie day.
Friday the 13th, a superstitious day popularized by the movie franchise Friday the 13th, falls on the second Friday of November this year. Some chalk the eerie feel up to paranoia from the 1980 horror film, but in reality the history of the day extends far beyond that. Friday the 13th stems from two separate concepts- the fear of the number 13 and the myth of unlucky Fridays. 13's unlucky start dates back to biblical times. Historians believe Judas, the disciple to betray Jesus, became the 13th guest to sit down at the Last Supper. The superstition surrounding 13 dining together sticks to this day with many saying if 13 dine together, one dies before the end of the year. The fear surrounding the number goes beyond dining. Hotels, airplanes and restaurants are all known to skip the number 13.
Unlike the number 13, Fridays no longer hold a negative connotation. Now, people see Fridays as the gateway to the weekend and a day of fun, but historically the day was treated as unlucky. In Britain, hangings traditionally took place on Friday, leading to the name "Hangman's Day." Additionally, Christians view Friday as the day when Jesus' crucifixion occurred. Between these two events surrounding death, it's no wonder why Fridays received a reputation for misfortune.
Combining these two superstitions makes for one unlucky day. The movie franchise, Friday the 13th, capitalized on the uneasiness felt on the day and ended up adding to the superstitions surrounding the day. The original movie follows a killing spree that takes place on the catastrophe prone day, and it eventually inspired spin-off films and video games. The myths surrounding Friday the 13th cause some people to avoid flying, making major decisions or doing anything out of the ordinary out of fear of bad luck. Luckily, this is the last Friday the 13th for 2020. The previous Friday the 13th took place back in March, right before everything shut down due to the coronavirus, so buckle up and prepare for one last day of misfortune.