The Great Divide
Split lunches enforced to follow Covid-19 guidelines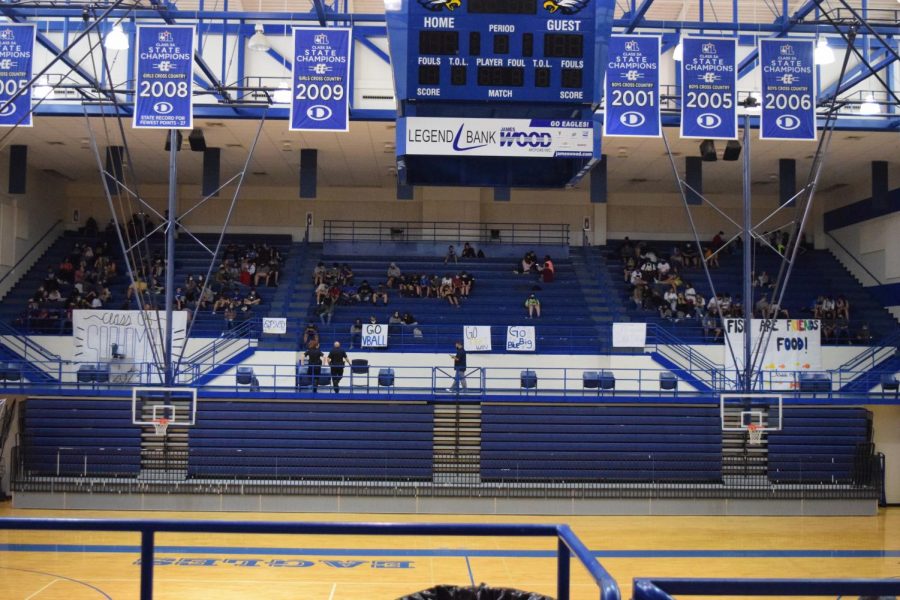 Dr. Jadie Matthew, principal, and the rest of his administrative team made the call to split the lunch periods during the first full week of classes. Basically, one group of students remain in the cafeteria during the first half of the lunch periods and the other group sits in the gym, awaiting the location switch.
A split lunch cuts down on eating time for students, but it allows for social distancing and extra sanitization between the grade switch.
"We figured it out on the first day of school. We tried putting some tables in the hall but students were still too close, especially since this is the only time we don't wear masks," Matthew said.
The first section of each lunch goes to the juniors and seniors while the freshmen and sophomores wait in the gym. Then, the grades switch for the second half of the period, allowing for the second group to take a seat at the tables to eat
"I was disappointed because it meant I wouldn't be able to sit with my sister," sophomore Erin Penny said.
In order for both lunches to make it through in the 45 minutes, each group eats at the tables for about 20 minutes.
"I haven't seen any real problems. Students seem to be able to finish their meals in the 20 minutes or so each group has to eat," Matthew said. "I think everyone realizes why we're doing this and the grumbling has been minimal."
Students alternate between empty and full seats, making for a maximum of six teens at each table. The alternating seats help cut down on the spread of the coronavirus and a name list at each table helps the school in the event of an outbreak when they need to contact trace.
"I'm not happy about it either, but I have to put safety ahead of convenience or preference," Matthew said. "The more spread out we are, the less chances that one sick student will expose or infect many. The split lunch lets us do that."