Jackie Trujillo, Staff Writer
May 16, 2013
Filed under News, Top Stories
With risers ready and stage set, the band and choir prepare to perform together at the spring band concert May 19. This will be the first collaboration between band and choir. "It's nice to work with somebody else that's in your department other than just theatre," choir director Ashley... Read more »

May 9, 2013
Filed under News
After winning DHS Teacher of the Year, Ag teacher Jim Allsup also finds himself among 12 finalists for the Justin Boots All-Star Ag Teacher Contest. Every year students nominate Ag teachers, whom they believe are worthy of the All-Star teacher award. "I believe he deserves this award, because... Read more »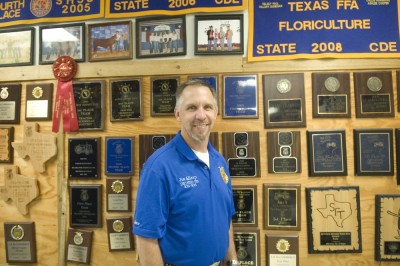 Madeline Peña, Online Editor-in-Chief
April 24, 2013
Filed under News, Top Stories
AG teacher Jim Allsup was named Teacher of the Year today, April 24. The process to earn this honor includes, student, parent and teacher nominations. Click here to read a previous feature about Allsup.
Angelica Lopez, Staff Writer
April 17, 2013
Filed under News
One Act Play is advancing to regionals. They leave today, April 17 and perform tomorrow at 4 p.m. at Texas A&M Commerce. They are the third show to perform out of six. At district and area competition, the cast and crew earned numerous awards. Senior Graham McCain received all star cast in district... Read more »

April 9, 2013
Filed under News
McKenna Waddill, Webmaster
April 1, 2013
Filed under News
The following is the STARR testing schedule for this week, April 1-5.

March 27, 2013
Filed under News
New Theatre teacher, Kris Lilley, takes OAP to compete at district March 28 in Krum. They're the first show performing at 2:30. The nine performers; seniors Graham McCain, Kelsey Smith and Marcus Pinon, junior Paige Snow, sophomores Josh Santos, Kendall Hubbard and Angela Farris, and freshman Benji... Read more »
Madeline Peña, Online Editor-in-Chief
March 25, 2013
Filed under News, Top Stories
In order to graduate distinguished, seniors must fill out their documentation of advanced measures form and turn it in to their counselor by 4:00 pm on April 15. Four distinguished measures are required to receive this recognition. There are six different ways to obtain these measures. They include scoring... Read more »
Michaela Cross, Staff Writer
March 18, 2013
Filed under News, Top Stories
Troy Bagwell, Director of Technology, found himself filled with honor and excitement after learning he was named an Apple Distinguished Educator on Feb. 19. Bagwell's interest in computers trace back to his high school years. "When I was a sophomore I raised chickens and won first place at... Read more »
Noehlia Ortiz , Staff Writer
March 4, 2013
Filed under News
Recent problems with the computer's Internet caused an inconvenience for students. Several students visited the Mac Shack with Internet problems throughout the weeks. "I didn't like it; it wouldn't let me get on the Internet to finish my homework," sophomore Ivie Hacker said. According... Read more »